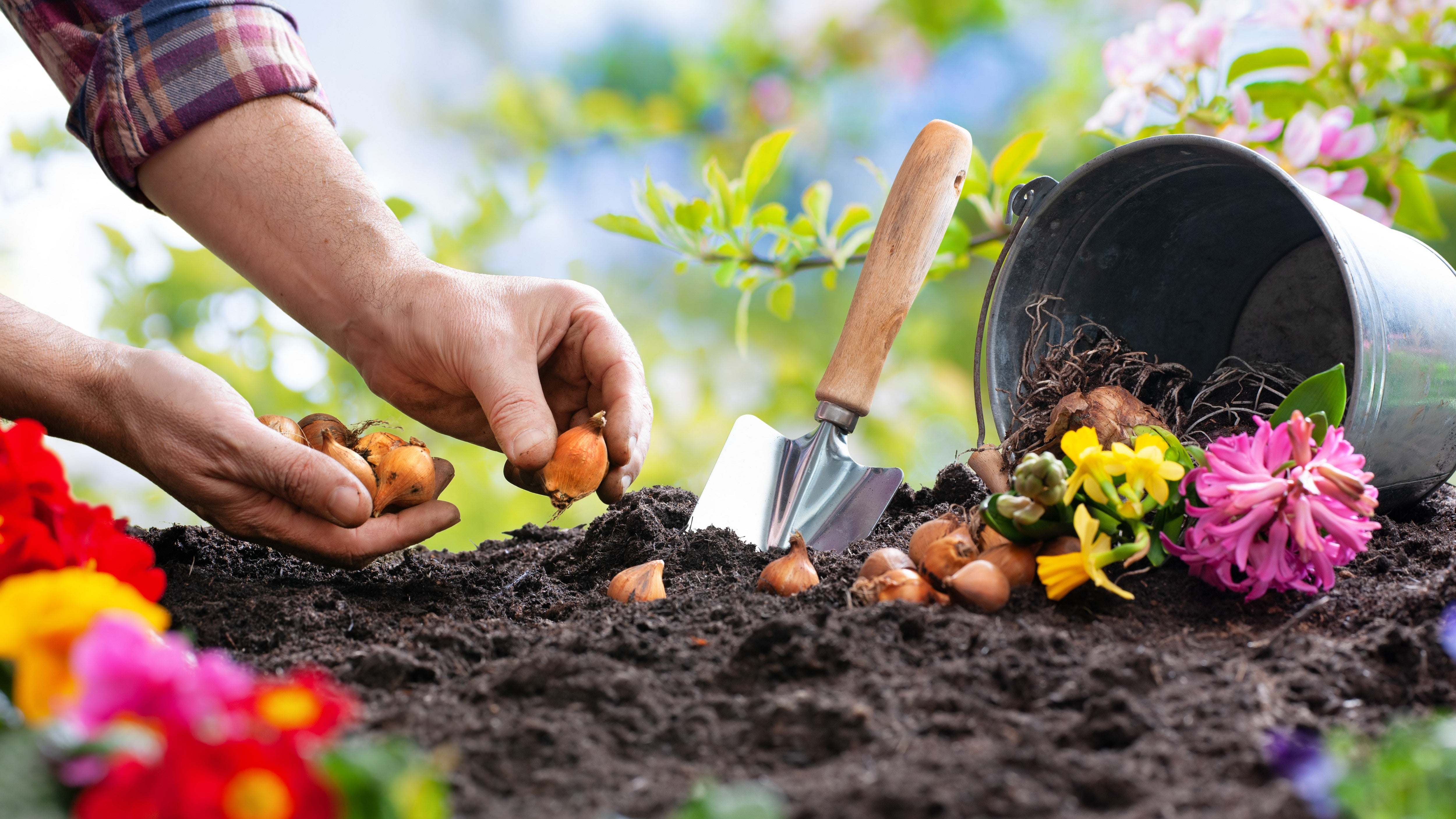 Shoots poking through the soil and the stunning splashes of colour are always a welcome sign that winter is over and summer is just around the corner. If you want to have this delightful display to look forward to in your garden, now is the time to get ready by planting spring bulbs. Whether grown in the garden or patio containers, they'll give you a fragrant splash of colour in early Spring with masses of bright blooms. Plus, they're extremely easy to plant and care for.
General Care
Bulbs in the Ground
Plant in free-draining soil, rich in organic matter or into bulb mix. To improve your soil, include compost, pumice sand and gypsum. Plant in a slight mound if the area is known to get wet.
Pots and Containers
Select a pot large enough to plant the bulbs at the correct depth and spacing. Plant using bulb mix or potting mix for a free-draining soil option.
Extra Tips

Water your bulbs well after you have planted them and until they start to sprout. Bulbs in shadier areas will have longer stems, which can be ideal when grown as cut flowers.
Anemone
Anemones are very easy to grow with full, colourful flowers. Pick a couple of days after flowers open to prolong their vase life. Anemone offer their best blooms in their first year but will continue to flower annually. New variety to Kings: Bi-colour Available from: late January Plant: Feb–March Position: part shade Depth: 3–4cm Spacing: 6–8cm
Hyacinth
With beautiful compact cones of blooms, hyacinths are highly fragrant and come in a range of stunning colours. Chill bulbs in the fridge for four to six weeks before planting them in winter to prevent malformed flowers. Lift the bulbs once the foliage dies back and place in a paper bag in a cool, dry area. In late summer chill them again for another year of beautiful flowers. New varieties to Kings: Doubles including Royal Navy, Spring Beauty, Snow Crystal and Red Diamond Available From: late January Plant: March–April Position: full sun Depth: 5–10cm Spacing: 8–10cm
Ranunculus
These ornate, colourful flowers look amazing in the garden, in a shallow terracotta bulb bowl or as a cut flower. Before planting your corms, soak them deeply in water for two hours. Plant in part shade if you want longer stems. Water well until the sprouts emerge, and then keep soil slightly moist. Available from: late January Plant: Jan–April Position: full sun Depth: 3–4cm Spacing: 6–8cm
Daffodils
Arguably the easiest spring bulb to grow and with a large range to choose from, daffodils are fast to establish and look great as they fill out over the years. Protect sprouts from slugs and snails with Quash in winter. New varieties to Kings: Arial, Pipet, Apricot Whirl, Glorious, Curly and Precocious Available from: early January Plant: Feb–April Position: full sun Depth: 8–10cm Spacing: 10–12cm
Tulip
Tulip bulbs arrive in stores around late March. Tulips also need a cold winter to bloom well so put them into a paper bag in the fridge for a few weeks to chill, then plant in late May. When chilling make sure they are kept dry. Plant in part shade if you live in the North Island, as this will help keep the flowers in bloom for longer rather than have them wilt in the sun. New variety to Kings: Tres Chic Available from: late March Plant: March–April Position: full sun Depth: 5–8cm Spacing: 8–10cm
Freesia
Known for their sweet scent and colourful flowers, freesias grow from corms instead of bulbs. As the freesia sprouts from the original corm and gets established, they also grow smaller extra corms. Once flowering is finished the original corm dies, leaving the new corms to grow and flower the following year. Plant with the pointy part of the corm facing upwards. Available from: early February Plant: Jan–April Position: full sun Depth: 5–6cm Spacing: 8–10cm
Kings Bulb Collection
Other bulbs available through-out autumn include Scillas, Muscari, Dutch iris, Iris reticulata, Ixia, Sparaxis and Crocus varieties.