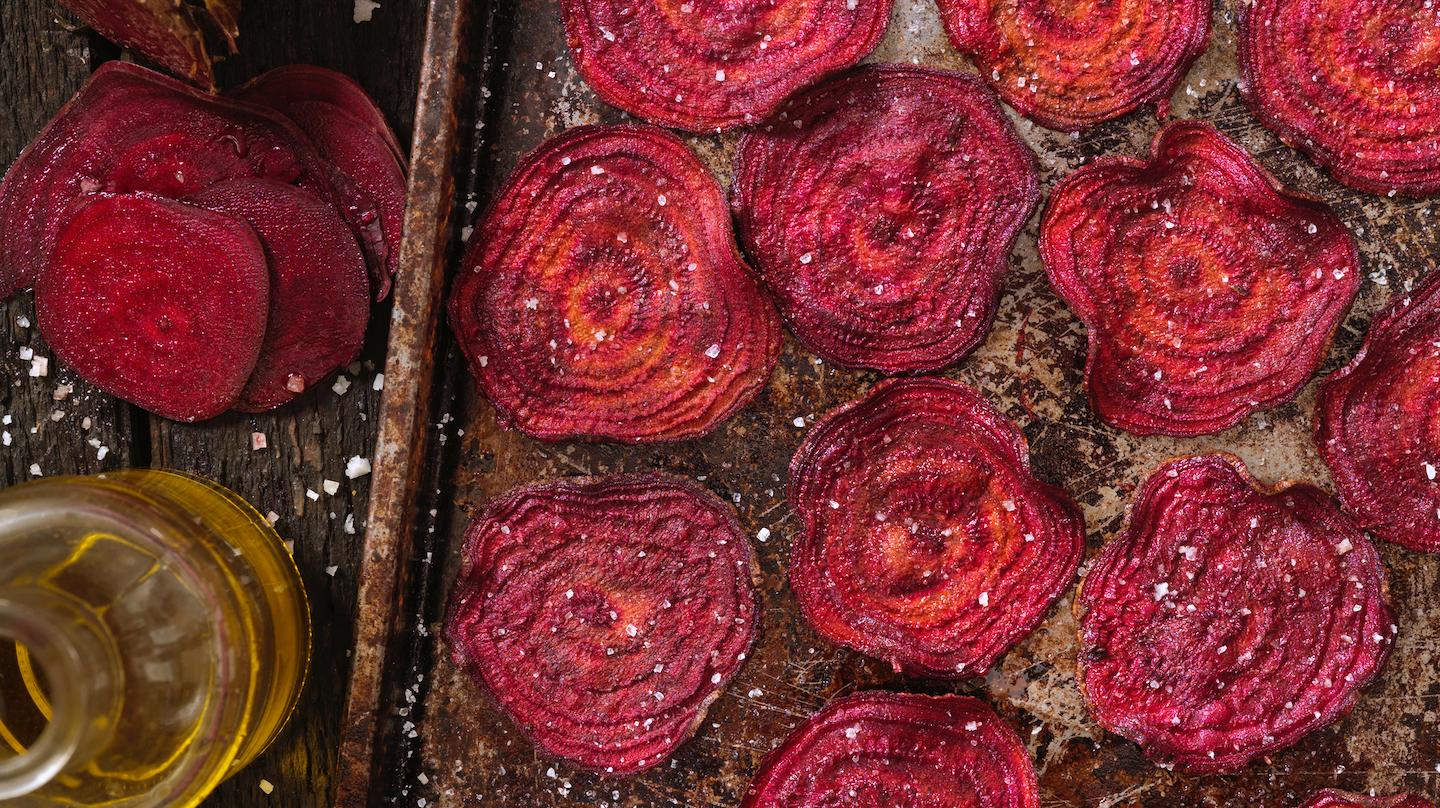 Baked Rosemary Beet Chips
30-minute baked beet chips infused with rosemary and speckled with sea salt. Perfectly crispy, simple to make, and a healthy snack. Tastes delicious when paired with this easy homemade hummus.
Ingredients
2 small beetroot (rinsed and scrubbed, peeling optional)
Olive or avocado oil
1 pinch each sea salt + black pepper
1-2 sprigs fresh rosemary (roughly chopped)
Hummus
1 can chickpeas
60 ml fresh lemon juice
60 ml well-stirred tahini
1 small garlic clove, minced
30 ml extra-virgin olive oil
1/2 teaspoon ground cumin
Salt to taste
30-45 ml water
Dash of ground paprika or sumac
Method
Preheat oven to 190 C and place oven rack in the centre. Line two baking trays with baking paper.
Thinly slice beets with a mandolin, getting them as consistently thin as possible. They should curl a little when cut. This will ensure even baking and crispiness.
Divide between two baking sheets and spray or very lightly drizzle with olive oil. Add a pinch of salt, pepper, and the rosemary. Toss to coat. Then arrange in a single layer, making sure the slices aren't touching.
Bake for 15-20 minutes or until crispy and slightly brown. Be sure to watch closely past the 15-minute mark as they can burn quickly.
Remove from oven. Let cool slightly.
Hummus
In the bowl of a food processor, combine the tahini and lemon juice and process for 1 minute. Scrape the sides and bottom of the bowl then process for 30 seconds more. This extra time helps "whip" or "cream" the tahini, making the hummus smooth and creamy.
Add the olive oil, minced garlic, cumin, and a 1/2 teaspoon of salt to the whipped tahini and lemon juice. Process for 30 seconds, scrape the sides and bottom of the bowl then process another 30 seconds or until well blended. Open, drain, and rinse the chickpeas. Add half of the chickpeas to the food processor and process for 1 minute. Scrape sides and bottom of the bowl, then add remaining chickpeas and process until thick and quite smooth; 1 to 2 minutes.
Most likely the hummus will be too thick or still have tiny bits of chickpea. To fix this, with the food processor turned on, slowly add 2 to 3 tablespoons of water until you reach the perfect consistency.
Taste for salt and adjust as needed. Serve hummus with a drizzle of olive oil and dash of paprika.