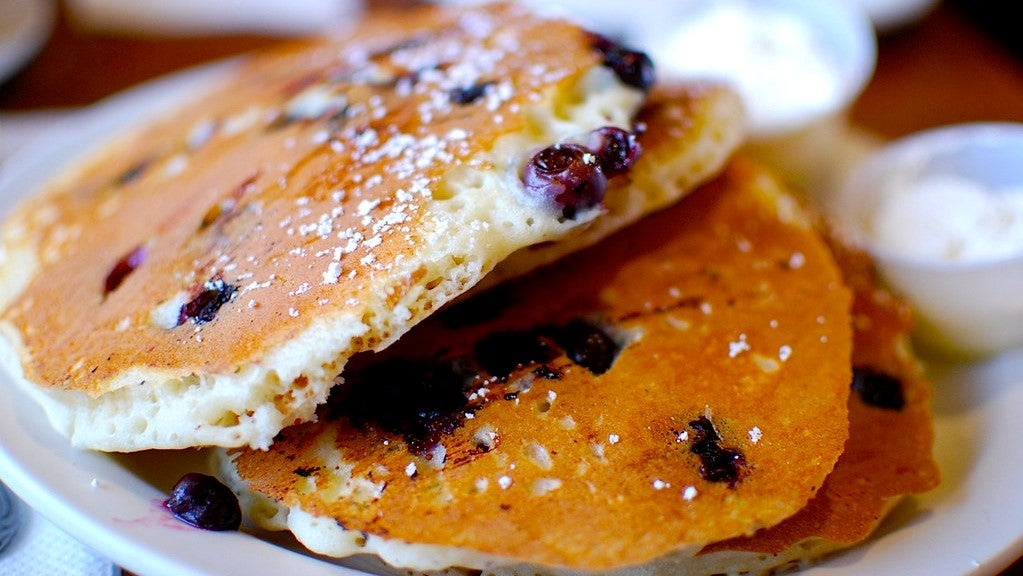 What is one of the best ways to use your own home-grown blueberries? Blueberry pancakes of course! This recipe makes 4–6 light and fluffy pancakes; double (or triple!) the recipe as needed to serve more hungry diners. Serves 2
Ingredients
1 cup milk
1½ tbsp white vinegar
1 cup white flour
3 tbsp sugar
1 tsp baking powder
1 tsp baking soda
½ tsp salt
1 egg
2 tbsp melted butter
1½ cup freshly picked blueberries, plus extra to serve
butter for cooking
lemon juice, syrup of choice and sugar, to serve
Method
Mix milk and vinegar together, then let sit for 3 minutes.
Sift flour, sugar, baking powder, baking soda and salt into a separate bowl. Whisk in the egg, then stir in the milk mixture and the melted butter until just combined. Gently fold in the blueberries.
Heat a little butter in a pan over a medium heat until melted.
Pour enough batter into the pan to just cover the bottom of the pan. Cook until bubbles start appearing on the top of the pancake. Flip and cook for another 2 minutes.
Let cool for 1 minute, then serve with lemon juice, syrup, sugar and extra blueberries.