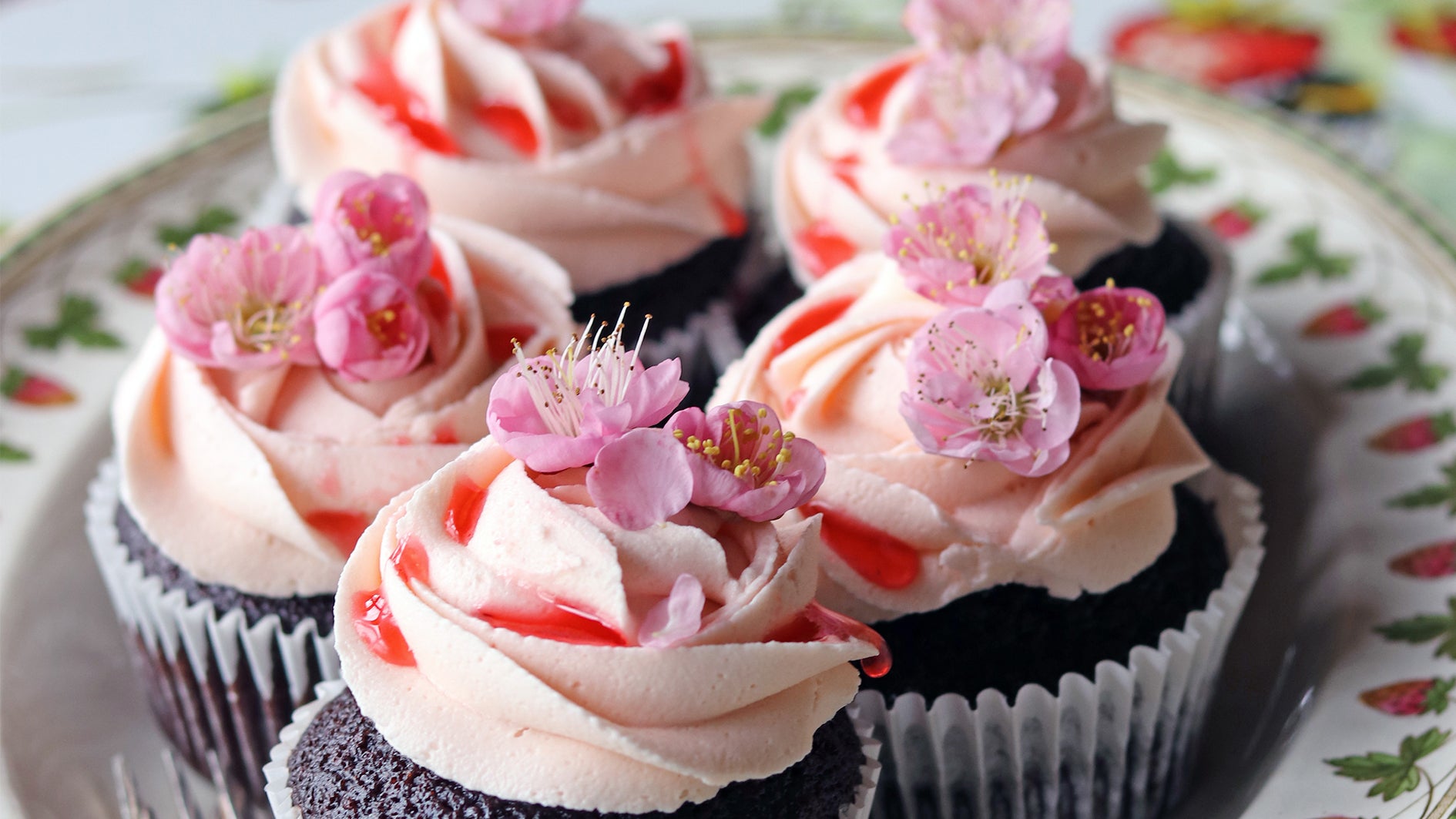 Chocolate Cupcakes with Buttercream and Strawberry Jam Drizzle
Ingredients
Cupcake Ingredients
1 cup sugar
1 cup flour
⅓ cup cocoa
1 tsp baking powder
1 tsp baking soda
½ tsp salt
1 egg
½ cup milk
¼ cup rice bran oil
1 tsp vanilla essence
½ cup boiling water


Buttercream Ingredients
100g butter, softened
2 cups icing sugar
¼ cup cream
1 tsp vanilla essence
1-2 drops food colouring (optional)


Jam Drizzle Ingredients
3 tbsp strawberry jam
2 tbsp warm water
Method
Cupcakes Method
Preheat your oven to 180 degrees C and line a 12 hole muffin tin with cupcake cases.
Place all ingredients, except boiling water, in a mixing bowl and beat with an electric beater for 1-2 minutes until well combined.
Add boiling water and fold in slowly with a spatula. The batter will be very runny, so transfer it to a pouring jug and three-quarters fill each cupcake case. Don't overfill or the cakes will rise over the cases.
Bake for 20-24 minutes.
Decorating Method
Beat butter, sugar and cream together for a few minutes, until the mixture is thick and pale.
Stir in vanilla essence and food colouring, if using.
Spoon icing into a piping bag and pipe a rose-shaped swirl on top each cupcake.
Mix jam with warm water and strain through a sieve to remove any pips or berry flesh.
Drizzle over the cupcakes and decorate with spring blossoms to serve
Recipe provided by Lynda Hallinan