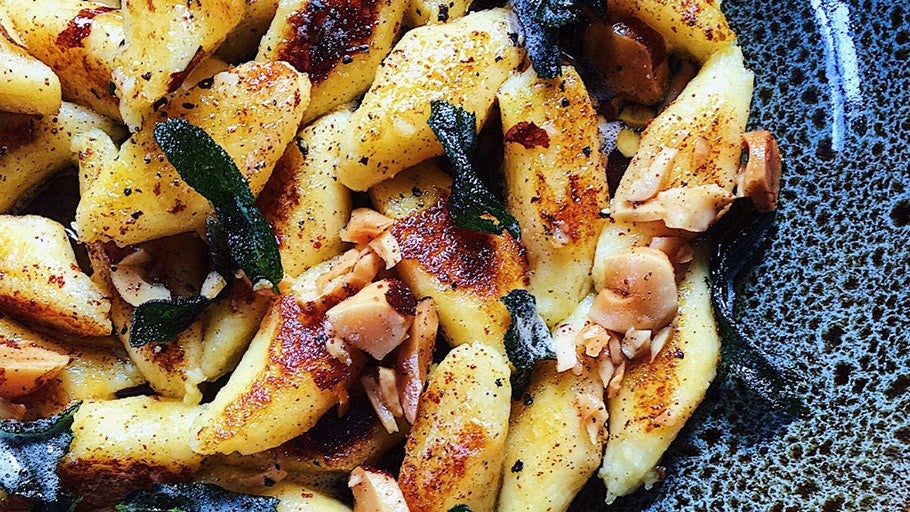 Gnocchi with Brown Butter and Sage
Try our deliciously winter warm, easy-to-make recipe to share with a dash of fresh, seasonal sage. Serves 4
Ingredients
1kg Potatoes, scrubbed clean
2 Egg yolks
50g Grated parmesan, plus extra for garnish
100g Pasta flour (for best results, otherwise plain flour is fine)
150g Butter
Handful of fresh sage leaves
70g Brazil nuts, roughly chopped
Olive oil, for frying
1 Lemon
Method
Preheat oven to 180 degrees. Pierce potatoes with a knife and bake for 1 and a half hours, or until a knife easily slides right through. Cool slightly, cut each potato in half and scoop out the flesh. Pass through a potato ricer or sieve into a medium sized bowl.
Add egg yolks and parmesan to potato, season with salt and mix well. Stir in flour, then turn mixture out onto lightly floured work surface and knead until just combined. Roll mixture into logs (approx. 2cm thick) and cut into 3-4cm lengths.
Bring a large saucepan of salted water to a simmer. Working in batches, drop pieces of gnocchi into the water and cook until they rise to the top (about 1-2 minutes). Remove with a slotted spoon and set aside.
In a saucepan over medium heat, cook the butter until very foamy, stirring continuously. Add the sage and brazil nuts and cook further until butter starts to tan and has a nutty aroma. Remove from the heat immediately.
Heat the olive oil in a non-stick frypan over medium heat. Add gnocchi and pan fry until golden. Add butter and sage mixture to the pan, toss to coat and remove from heat. Divide into bowls, top with grated parmesan and a squeeze of lemon.