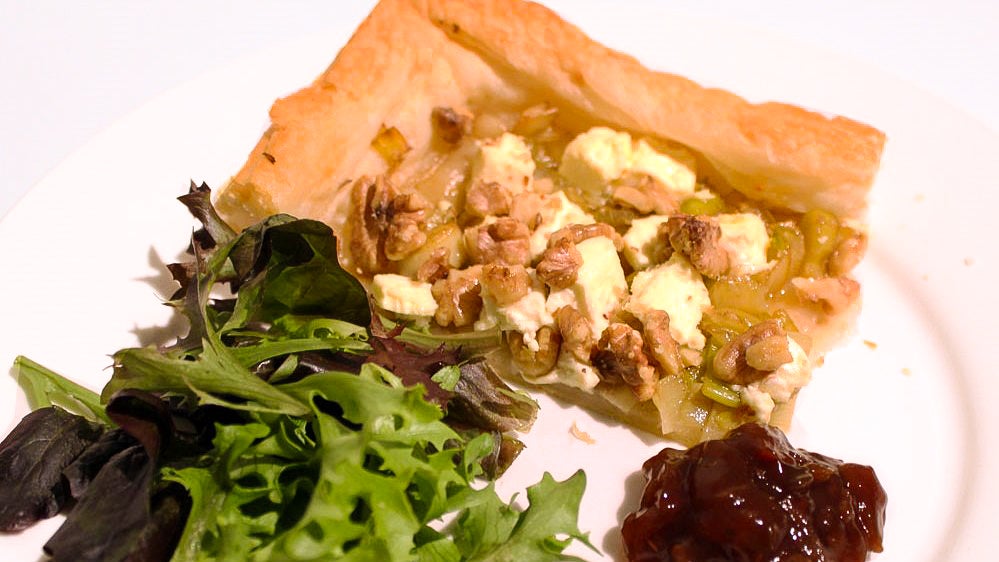 Ingredients
1 tbsp olive oil plus extra for drizzling
25g butter
2 medium leeks
2 tbsp chopped thyme leaf
2 lemons
375g pack ready-rolled puff pastry
200g soft spreadable goat's cheese
50g walnut pieces
parsley for a garnish
Method
Preheat oven to 220C.
Heat the olive oil in a large frying pan, then add the butter. Once sizzling, sautee the leeks until softened but not coloured.
Stir in the thyme and zest from 1 lemon zest, then increase the heat.
Add lemon juice from 1 lemon and cook for about 30 secs until the lemon juice reduces.
Remove from the heat and cool slightly. Add salt and pepper to taste.
Unroll the pastry and lay on a baking tray lined with greaseproof paper. Lightly mark a 1cm border around the edges with the tip of a sharp knife, then prick the base all over with a fork.
Spread the lemony leeks on top of the pastry, within the border. Crumble over the cheese, scatter with the walnuts, then season with pepper. Drizzle with some olive oil, brushing the edges with a little oil as well.
Put tart in the oven for 15-20 mins until the pastry puffs up around the edges and is golden brown. Scatter with parsley and the remaining lemon zest.
Serve hot, warm or cool.