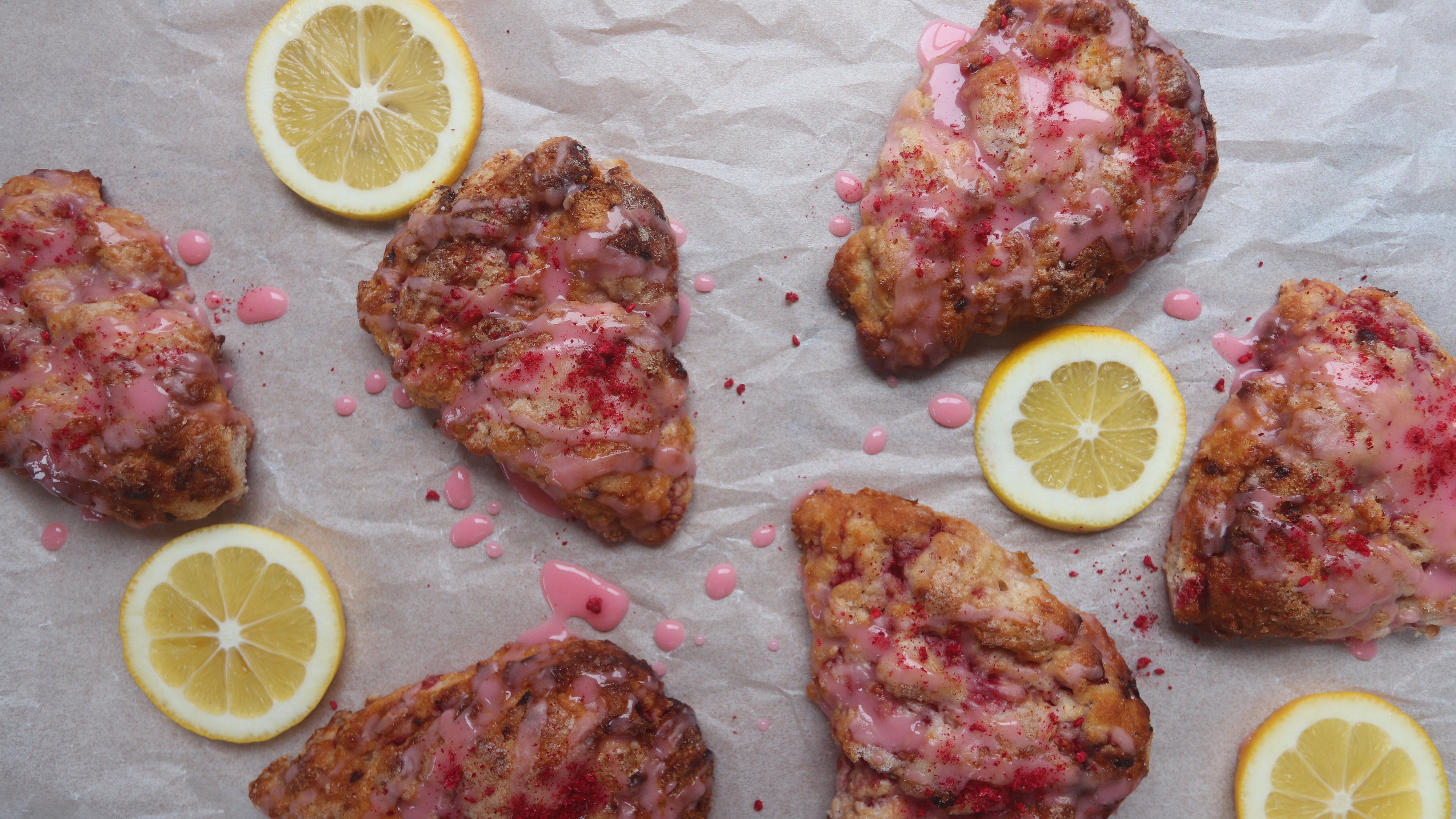 Lemon and Raspberry Scones
Ingredients
200g Fresh Raspberries
¾ cup Sugar, divided into 3
Juice of 2 lemons
Zest of 2 Lemons
2 cups Flour
3 tsp Baking Powder
Pinch of Salt
100g Cold Butter, cubed
1 Large Egg, lightly beaten
1⁄2 cup Cream, plus extra for brushing
¾ cup Icing Sugar
Method
In a small bowl, combine raspberries, first measure of sugar and lemon juice. Mix gently and leave for 30 minutes.
Line a baking sheet with greaseproof paper and preheat oven to 185 degrees.
In a large bowl, combine lemon zest with flour, second measure of sugar, baking powder and salt. Using your hands, work butter into flour mixture until it resembles breadcrumbs.
Drain raspberries, reserving the juices. Add drained raspberries to flour mixture and toss to coat. Make a well in the centre, and add cream and egg.
Mix with a fork until just combined and turn dough out onto a well-floured work surface. Dough should be quite sticky, but able to hold its shape. Form dough into a 20cm circle and cut into 8 wedges. Place wedges evenly spaced on baking tray, brush with cream, and sprinkle over remaining measure of sugar. Bake until golden, about 25 minutes.
To make glaze, place icing sugar in a small bowl and add in the reserved juices, a teaspoon at a time, until you have a gooey consistency. Drizzle over scones and serve while they're still warm.