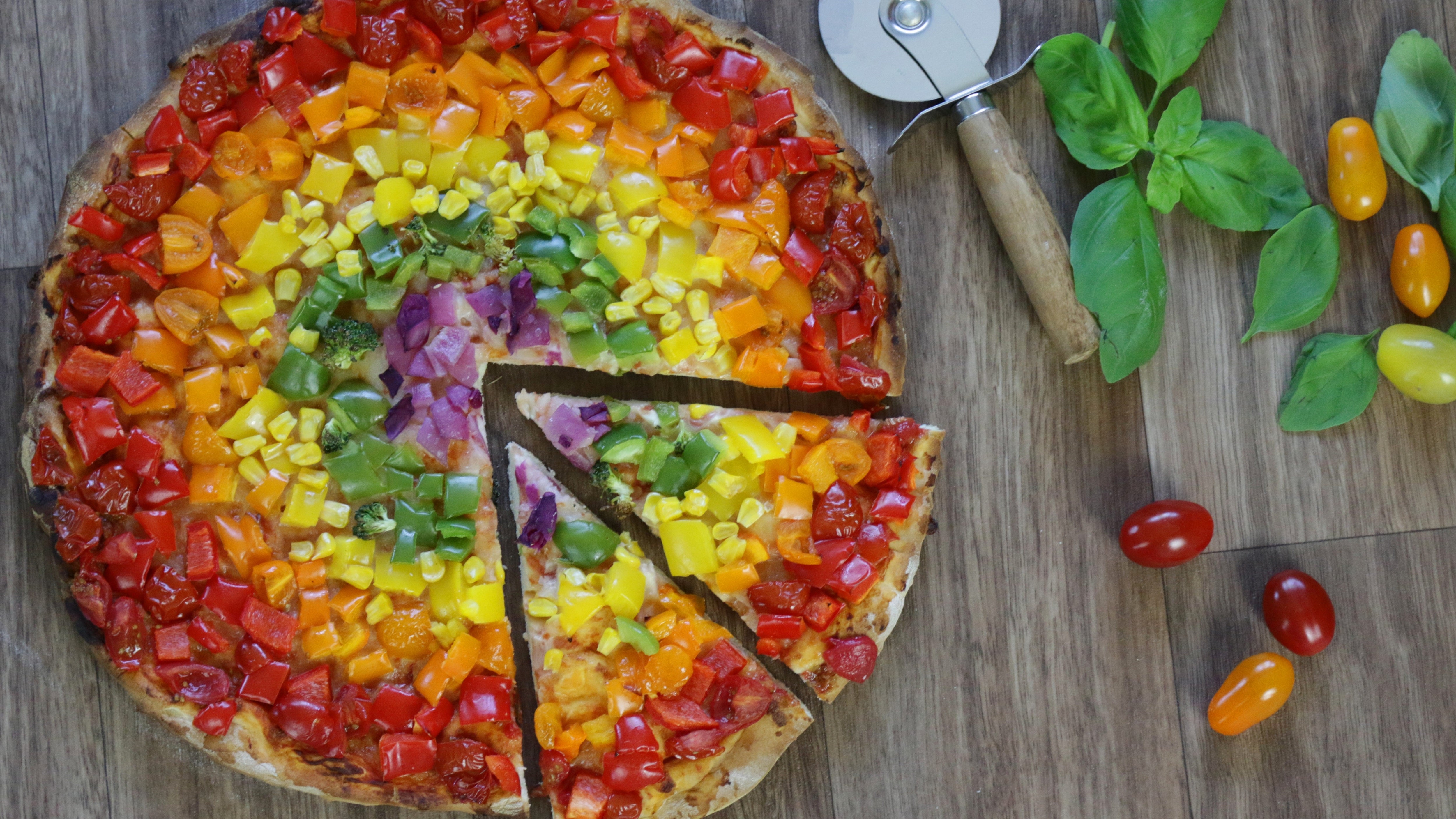 Little Growers Recipe: Rainbow Pizza
Looking for a simple, easy snack or dinner idea for the kids that is also healthy? Try making a RAINBOW pizza! The colours come from a variety of veggies, so kids will get their 5+ a day in one serving. You can use store-bought pizza bases if you prefer.
Ingredients
Pizza base
1 packet (or 2¼ tsp) live yeast
1 tsp sugar
1 cup warm water
2 cups flour (plus 1 cup for dusting and kneading)
2 tbsp olive oil
1 tsp salt
Toppings

1 cup of pizza sauce (or tomato paste)
2 cups of grated cheese of choice
1 red onion, thinly sliced
1 cup chopped broccoli
1 green capsicum, thinly sliced
1 orange capsicum, thinly sliced
1 can of corn kernels
1 punnet of cherry tomatoes, halved
Method
Preheat the oven to 220°C.
To make the base, put the yeast, sugar and warm water in a large bowl and mix gently. Let it sit for a couple of minutes, until slightly foamy.
Add flour, olive oil and salt. Mix well using a fork to help combine ingredients.
Dust flour over a clean part of your kitchen counter or a large silicone cooking mat, and knead pizza dough for around 4 minutes.
Put dough back into the bowl, cover with a dish towel and let it rest for a further 5 minutes.
Remove dough from bowl, roll into a ball (or several smaller balls for bite-sized pizzas) and push out into circles — get the kids to help!
Put each pizza base onto your silicone mat, or baking paper.
To top the pizzas, spoon some pizza sauce (or tomato paste) onto each base and use the back of the spoon to spread it thinly.
Sprinkle grated cheese over the sauce (this way it doesn't cover the colourful veggies).
Arrange the chopped veggies, starting from the crust and working your way in layers to create a rainbow.
Place your pizzas in the oven (if using baking paper to top pizzas, place the pizzas and paper on trays first) and bake for 8–10 minutes, or until the bases are golden.
Cool slightly before serving.