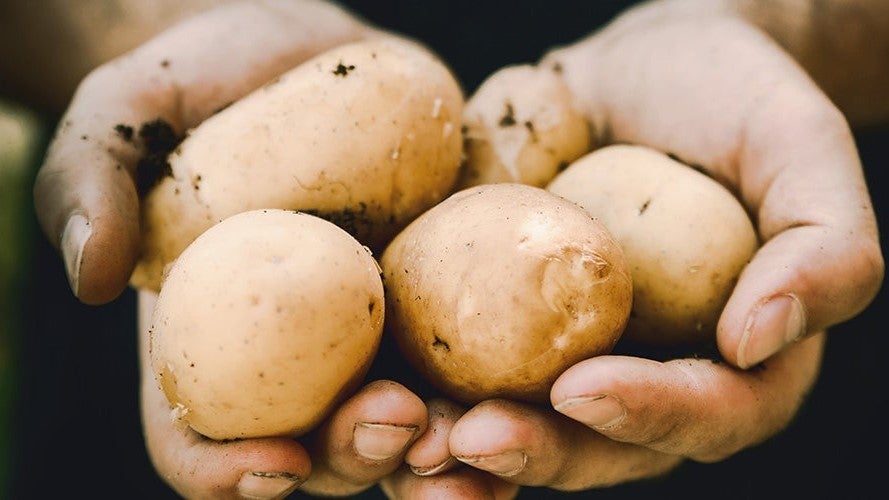 Our Guide to Potato Varieties
A staple for many kiwi families, the potato is a versatile vegetable used in many different dishes served as either boiled, mashed, roasted or fried. When it comes to potatoes there are huge range to choose from.
Varieties
Different varieties of potatoes can mean different cooking types and different harvesting times.
Early crop
Early crop potatoes are ready for harvest at 90 – 100 days of growth. Get them in early to enjoy at Christmas time.
Rocket – The fastest-growing potato that is ready to harvest at around 90 days. Easily grown in containers and fantastic as a boiling potato.
Cliff Kidney – Great boiling potato with smooth/shallow eyes, making it quite attractive. A good all-rounder and can be used mashed, roasted, as chips or wedges.
Anuschka – Very high yielding potato with a superb taste for potato salads or boiling.
Jersey Bennes – An old English variety, pre-Christmas, with medium waxy tubers, suitable for boiling, with white skin and flesh.
Swift – A very tasty, round, high yielding potato, with white skin and creamy coloured flesh.
Allura – With bright skin and flesh, these round potatoes are great for boiling, roasting and chipping, very versatile and producing a high yield.
Main Crop
Main crop potatoes are harvestable at 130 – 140 days of growth.
Nadine – A well rounded, white waxy potato fantastic for boiling. Needs good moist soil when growing.
Heather – A great over all potato that you can boil, mash and roast. Oval tubers and a steady cropper.
Red King – Another beautiful pink-skinned potato with a deliciously rich flavour. Stores very well and best when boiled.
Ilam Hardy – Giving a good yield in a variety of soil conditions. Excellent for boiling and frying and has a light blight resistance.
Karaka – A medium to large good all round potato for all kinds of cooking. White skin and flesh.
Late Crop
Late crops are harvestable over 140 days of growth.
Moonlight – one of the largest potatoes. Store very well and a great all-purpose potato. Use for mashing, boiling or fries. Very high yielding.
Desire – a gorgeous pink-skinned, high-quality boiling potato that's great when used in a frying pan.
Taewa (Maori Potatoes)
Taewa are potatoes that have been grown by Maori for over 200 years, as they are easy to grow in all areas of New Zealand, and that are still available to grow in gardens today. Many of these are specific traditional varieties including Moemoe, Huakaroro and Karuparera. Harvest time for these is approximates 120 days. Plant in September for a Christmas harvest (harvest when the top of the plants start to die back).
Urenika
A long potato with thin purple skin and deep purple flesh which contains higher levels of phytonutrients than normal potatoes. The thin skin makes them perfect for boiling and steaming.
Moemoe
Great all-purpose potato, fantastic for chipping, boiling and baking. A firmer texture and keeps its shape after being boiled. Light purple-pink skin with creamy flesh. This potato have a prolonged storage life.
Huakaroro
A cream coloured potato with creamy flesh and a round oval shape. Perfect for boiling and can be stored for a prolonged period.
Whataroa
An earlier Taewa that can be harvested at 110 days. Light brown to purple skin with creamy-purple flesh. Great to be used as wedges, chips or over baked.