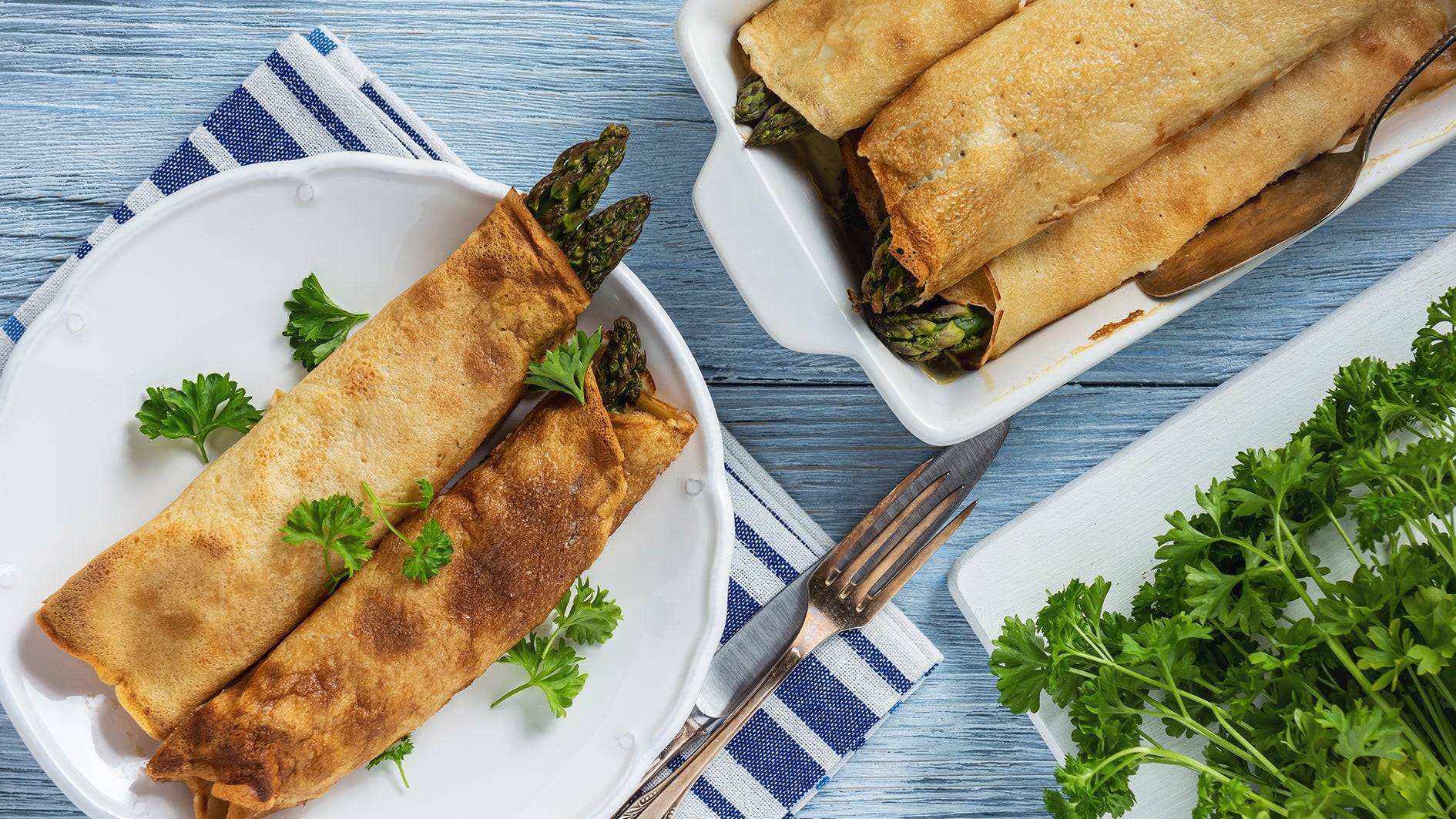 Parmesan Crêpes with Asparagus and Ham
These delicious filled crêpes can be served as an entrée or canapé, or as a main meal. Put all the ingredients in the middle of the table and let people help themselves. Kids will love filling and rolling up the crêpes. Best with asparagus that has been cooked for as little time as possible to enjoy its freshness.
Ingredients
2–3 bunches asapargus
200–300g shaved ham
Hollandaise, ranch dressing or other creamy dressing of choice
Chopped dill, spring onion, chives or Italian parsley
Crêpes
1 cup flour
2 free-range eggs, whisked
Pinch salt
250–300ml milk
50g melted butter, plus extra for cooking
Salt and pepper to taste
½ –1 cup finely grated Parmesan (to taste)
Method
To make crêpe batter, sift flour into a medium-sized bowl, then add egg, salt and melted butter. Stir to combine and then add milk a little at a time until you have a smooth, runny consistency. Put in fridge for half an hour to chill.
Wash asparagus and remove woody ends.
Bring a large (big enough to fit whole asparagus spears) pot of salted water to the boil.
While water is heating, remove crêpe batter from the fridge and stir in the Parmesan.
Put a knob of butter into a large frying pan over medium heat. Once melted, add spoonfuls of crêpe batter to the pan until the bottom is thinly covered. Cook for a minute, then lift a corner to check that it is cooked and golden. Carefully flip over and cook for a further 30 seconds to 1 minute, then remove to a serving dish and keep warm. Repeat with remaining mixture.
While pancakes are cooking, add asparagus spears to boiling water. Cook according to taste – just a minute or two will give you bright green, al dente asparagus with still a little crunch.
Serve crêpes, asparagus and ham on individual serving dishes with sauce/dressing and chopped herbs on the side and invite everyone to help themselves.