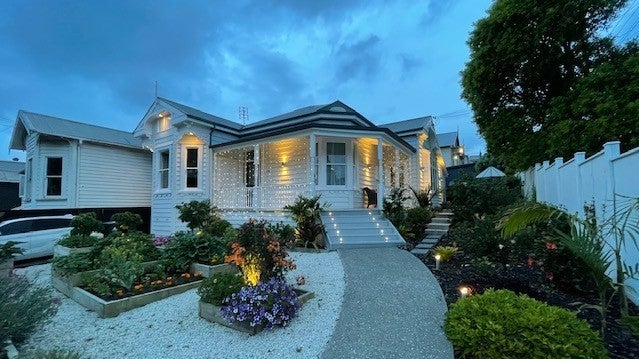 Passionate Plant People: A Tale of Two Gardens
This Autumn, we take another walk through the garden of one of our amazing team members, Rob Barnes.
Originating from the UK, Rob joined Kings 14 years ago. During his time at Kings has worked at 5 of our 8 garden centres. After working as Assistant Manager at our Forrest Hill, Botany and Henderson stores, Rob was recently appointed a new position in Support Office leading People and Culture for the whole business.
Like most of the Kings team, Rob has a stunning garden, inspired by his family, his life in NZ and of course, years of working in a garden centre. Rob's passion for gardening bloomed from encouragement from his family. Both sets of grandparents were of the war generation, which meant ensuring there was always a surplus of fruit and vegetables throughout the year to put on the table. Rob's grandfathers were both excellent gardeners, and his grandmothers were exceptional cooks. It wasn't just fruit and veggies they grew, but flowers too, from fuchsia, roses, lupins, and the blaze of annual colour associated with a UK garden including petunia, marigolds and busy lizzies.
His parents also reinforced this passion of growing. "I distinctly remember them getting a greenhouse for us to grow veggies in, and I used to (and still do) love growing tomatoes! I loved to grow the big beefsteak to see how big I could grow a tomato."
A season was never complete without a trip to a garden centre to stock up on summer bedding, as after a bleak UK winter nothing beats a blast of colour in the garden. Much later, after moving to New Zealand and working with Kings for a number of years, Rob and his partner bought their current house. It is a beautiful 1910s villa, which they spent a year renovating by restoring some of the original features, as well as modernising the inside.
After completion, the next stage was the garden, which was a blank canvas, except for a hedge and lawn. Their dream was to have a garden full of colour, and foliage with a very distinctive style. To achieve this, they split the garden up into many sections giving them freedom to create different types of gardens in each space. Two distinctively different styles of gardens have emerged from this exploration with the space, creating a beautiful garden full of intrigue at every turn. There is a beautiful potager garden in raised beds at the front of the property, with a tropical garden down the side of the house.
The Potager Garden
As the land had a clay base that wasn't ideal for planting, Rob decided raised planter beds would be best for the front of the house. A variety of sizes and heights were desirable to add interest and character. The front of the property and house was the only real option for food crops, as their beagle is food obsessed and if given the chance, would eat all the veggies he could get his paws on. These raised beds have all their favourites including rhubarb, raspberries and blueberries.
Not wanting anything too high in front of the house, numerous dwarf fruit trees including peaches, apples (ballerina varieties), kumquat, and nectarines create an urban orchard on entry to the property. Even in summer Rob tends to grow small veggies, right down to the dwarf 'red robin' and 'tumbling tom' tomatoes. Mixed in with the veggies and fruit are fantastic performing flowers, including one of the best alstroemerias, the 'Indian summer', with bronze foliage and prolonged blooms that last for most of year.
Rob's Pro Tip: Use Tui Quash regularly to protect this beautiful perennial.
The Tropical Garden
While Rob is from the UK and loves the traditional cottage perennial look, Auckland provides a different climate where he is able to add more tropical plants than he would back in England. This garden has an array of hibiscus, vireyas, palms, and bromeliads to give it a tropical feel. As it has only recently been planted, it is still a juvenile garden - but both Rob and partner Jon love watching it grow and spending time together helping it flourish. Not only does this stunning garden burst with vibrant colours all year round, it smells exquisite too; with dotted fragrant plants around the garden including port wine magnolias, gardenias, frangipanis, and aromatic herbs such as thyme, sage and rosemary.
Rob reflects on the wellness aspect of gardening; "I think gardening is an innate behaviour that is in all of us, doesn't matter who's garden I am in, whether Auckland botanical gardens or a friend's, I always feel at home being surrounded by plants and nature. Our own garden is my sanctuary where we can switch off and connect to nature. It's great for mindfulness and to get away from technology and other distractions. As the great British Horticulturalist Getrude Jerkll said 'the lesson I have thoroughly learnt, and wish to pass on to others, is to know the enduring happiness that the love of a garden gives.'"