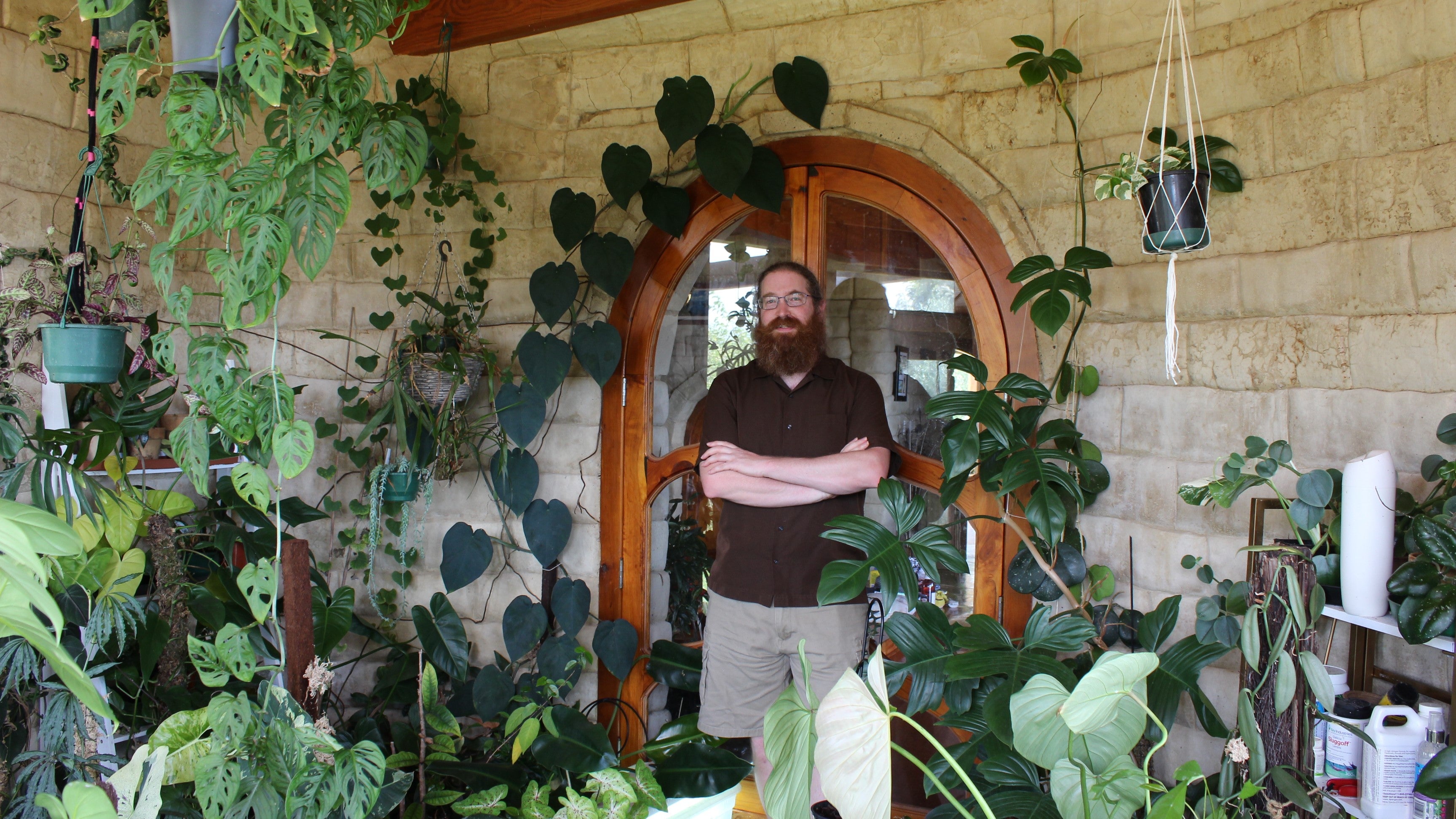 Passionate Plant People: Welcome to the Jungle
The staff at Kings are plant people – passionate and enthusiastic about caring for plants. Each Scoop issue we have a sneak peek into their gardens and plant collections, and share their unique stories. This season we visited Daniel Kubler, one of our Buyers, to see his incredible collection of weird and wonderful indoor plants.
Daniel is Kings' product manager - green goods, meaning he oversees much of the bulk plant buying from our partnered nurseries and works to bring new plants and varieties to Kings. Though he now works in the Support Office (still surrounded by plants), he worked on the ground at the St Lukes and Botany stores for 10 years prior. Originally from Mississippi, he was introduced to plants at a young age on his father's nursery. It wasn't until much later (after killing many a plant at uni), when he started working at Kings, that his love of plants blossomed. Now his passions lie in the weird and wonderful, whether it be tropical fruits or interesting tropical indoor plants.
An ice-cream bean tree that he bought from Kings was the start of his early interest and passion for collecting and growing unusual fruit trees. From there, Daniel's hunger for knowledge grew. His university studies were not in horticulture – he's learnt everything he knows from working on the shop floor with customers, as well as his own research.
After successfully growing the most rare and unusual subtropical fruiting plants on a few properties, his passion extended to indoor plants. Noticing an increase of interest and excitement for indoor plants amongst his customers while managing the Botany store in 2018, he eventually succumbed to being an indoor plant parent and avid collector.
The bulk of his collection is fairly recent, many of the plants having been with him for 2–5 years. His current favourites are aroids of all different shapes and sizes, and he enjoys hunting down new and unusual plants for Kings stores, to get them into the hands of other indoor plant enthusiasts.
While being photographed, Daniel pointed out each of his most prized plants, including a small Philodendron Imbe variegata pup he started growing this year, which has successfully grown into the new tree fern stakes we have started stocking in stores.
His growing tips are to mimic your plant's natural environment as much as possible. For tropical indoor plants, keep them in warm temperatures in bright, indirect sunlight and high humidity – like the rainforests many of them originally come from. For cacti and succulents, he's had success placing his plants in a north-facing window with direct light and letting them dry out between waterings, and so on. However, different plants have different care needs so always research a plant you are looking at buying to make sure they will thrive!
Daniel's collection is young, and there are still many plants he is looking forward to filling his house with. Passion breeds passion, which is true for this particular collection, and he owes it all to the customers of the Kings Botany store!