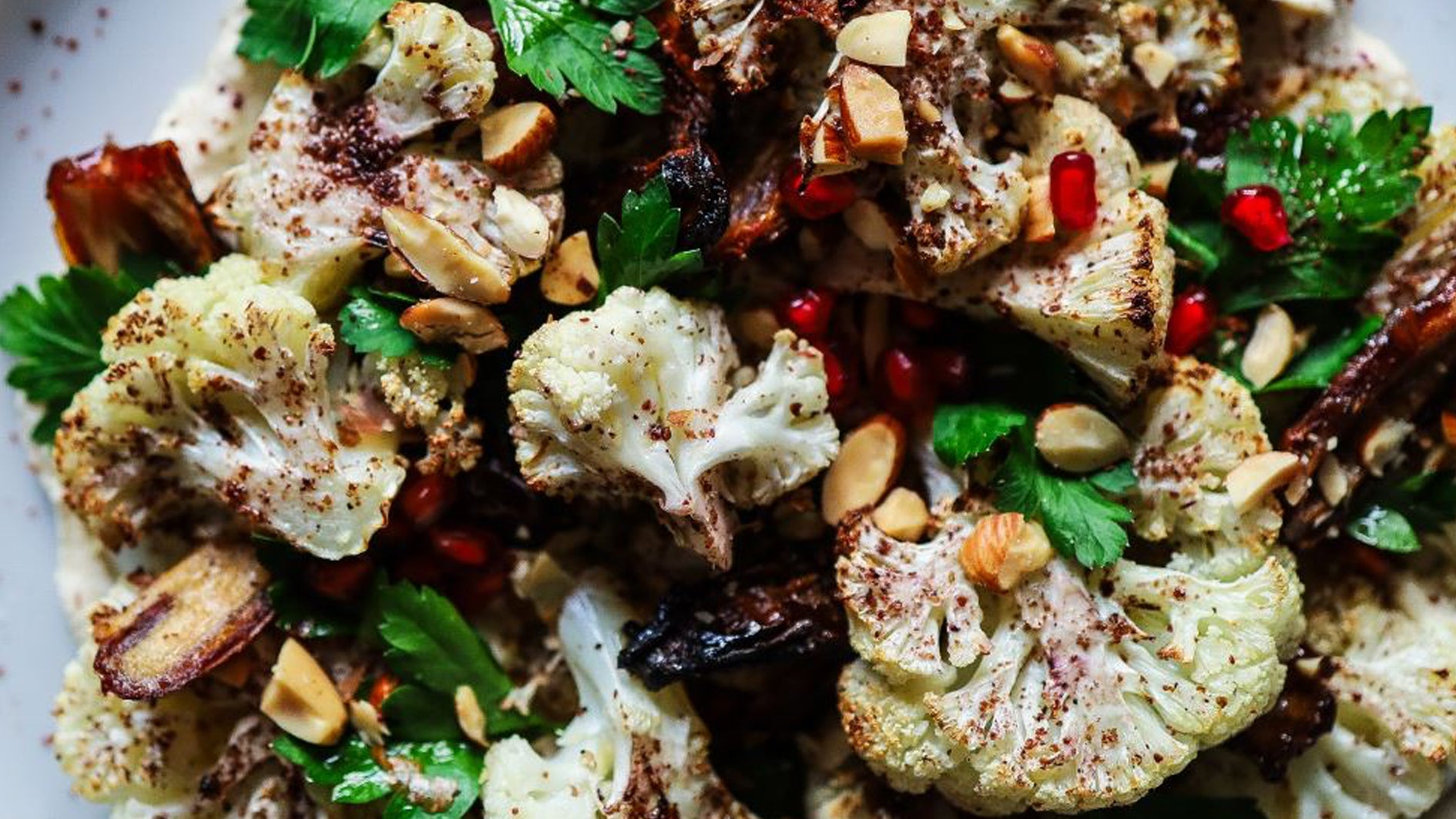 Roasted Cauliflower & Dates with Whipped Tahini Yoghurt
Ingredients
1 Medium Head Cauliflower, chopped into florets
12 Medjool Dates
1 Tbsp Sumac
Olive oil
Dressing
100g Thick Greek Yoghurt
1 ½ Tbsp Tahini
1 Tbsp Honey
1 Large Lemon, juice and zest
1 tsp Crushed Garlic
To Garnish
Handful of Roasted Almonds, roughly chopped
Handful of Flat Leaf Parsley
Pomegranate Seeds
Method
Preheat oven on fan grill to 220 degrees Celsius and line an oven tray with baking paper.
Arrange cauliflower florets evenly around the tray, making sure there is about a 1cm gap between each piece (depending on the size of your cauliflower, you will most likely need to complete this step in 2 batches).
Drizzle with olive oil, season well with sea salt and dust liberally with the sumac. Roast the cauliflower under the grill for about 12 minutes for each batch, watching carefully – you want to remove from the oven as soon as the edges of the cauliflower reach a nice caramel colour.
Keeping the oven on, remove the pits from the dates and use your hands to rip into rough quarters. Spread evenly on a new lined oven tray and place under the grill for about 5 minutes until the surface of the dates are slightly caramelised.
Remove from oven and set aside with the cauliflower to cool.
To make the tahini yoghurt, combine all dressing ingredients in a medium sized bowl, season with salt and pepper, and whisk vigorously until completely smooth.
To assemble, spread the tahini yoghurt evenly around a large serving platter. Top with the warm cauliflower, dates, and sprinkle over roasted almonds, pomegranate seeds and chopped parsley.