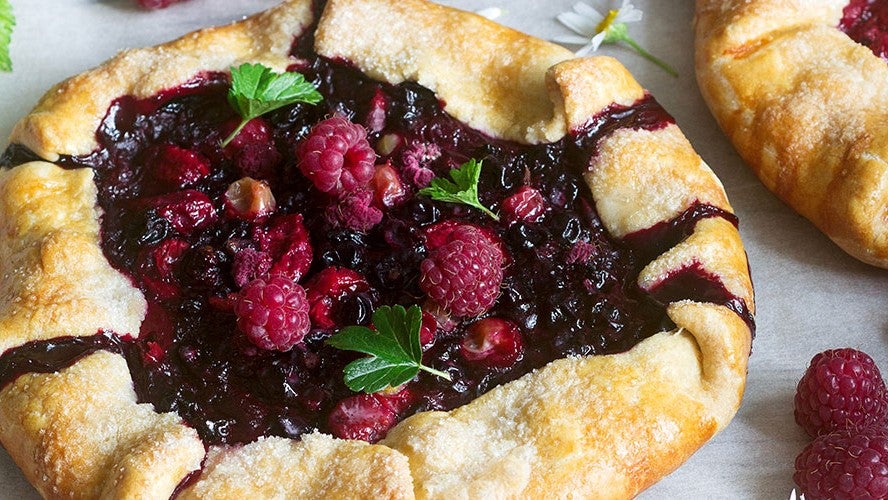 This galette can be made with pretty much any fruit you have to hand, but is particularly delicious with the berries we begin to see fruiting in spring, such as strawberries, blueberries and boysenberries. Make your own pastry if you have the time and inclination! Serves 4
Ingredients
2–3 cups berries (cut strawberries into quarters)
leaves from 3 sprigs rosemary, chopped
1 tbsp caster sugar (or more to taste), plus extra for crust
1 tbsp lemon juice
1 block butter puff pastry
1 tbsp melted butter or cream
Method
Preheat oven to 180C. Line a baking tray with baking paper.
Combine berries, rosemary, sugar to taste and lemon juice in a bowl and leave to marinate slightly.
Dust the bench with flour and roll pastry into a rough circle around 5mm thick. Transfer to lined baking tray.
Mound berries on top of pastry, leaving a 5cm border around the edge. Fold pastry up over edges of fruit layer and in towards the centre, pleating as needed. You will end up with a pastry border framing a pop of berry colour in the centre. Brush pastry border with butter or cream and sprinkle with sugar.
Bake in centre of oven for about 45 minutes or until berries are soft and juicy and pastry is golden.
Cool and serve as is, or with cream or ice cream.