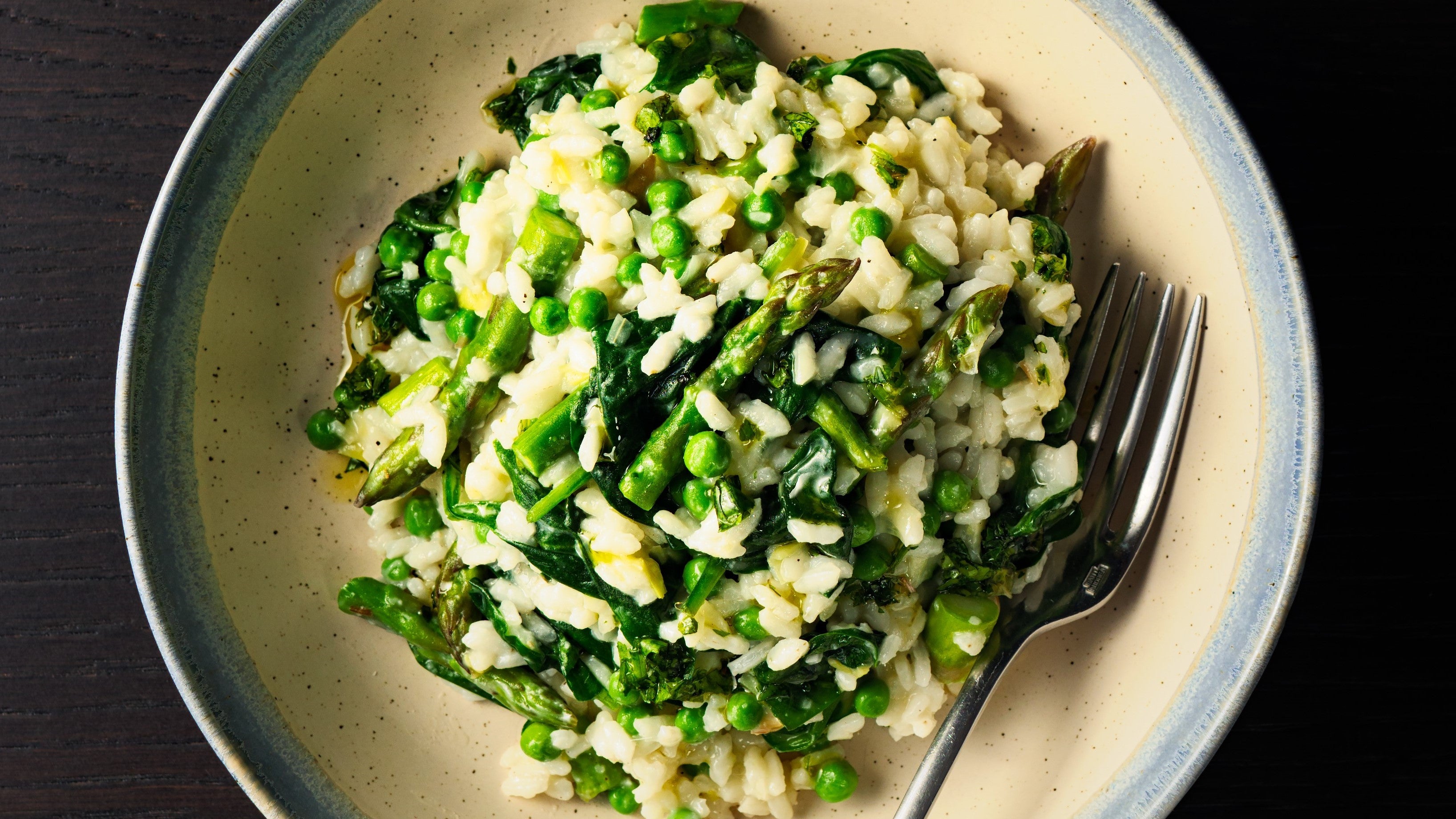 This spring Risotto makes the most of the fresh green colours of spring – it packs a nutritional punch and is a great way of feeding a crowd. Any Herb Oil leftover will keep in the fridge for a week or so; best used with meats or stirred through pasta. Serves 4.
Ingredients
Herb Oil (optional)
1 big handful Italian Parsley or Basil, or a mix
3 tbsp olive oil
Salt and Pepper to taste


Risotto
2 tbsp Olive Oil or Butter
1 Leek, green part roughly chopped
2 cloves garlic, finely sliced
2 cups Arborio or Carnoroli Rice
1 ½ cups White Wine
7 cups hot stock of choice (vegetable or chicken works well)
salt and pepper to taste
15 lengths Asparagus
2 cups Peas(fresh or defrosted frozen), pureed
1 cup grated Parmesan, plus extra to garnish
zest and juice of 1 Lemon
Method
If making the Herb Oil, mix Herbs, Oil and Salt and Pepper in a blender until you have a flavoured Oil consistency. Put aside until ready to serve.
Heat oil or butter in a large pan over medium heat. Add Leek and cook for about 5 minutes, until softened but not coloured.
Add Garlic and cook for 2 minutes until softened. Do not let it brown.
Add rice and stir to coat in oil or butter. Cook for 1–2 minutes, until lightly toasted.
Add Wine, stir and cook until liquid has evaporated. Add Stock and Salt and pepper and stir to combine.
Turn the temperature down to medium-low and simmer gently, stirring often, until rice is creamy and tender, for 20 minutes (it should still have a little al dente 'bite').
If the mixture looks dry while cooking, add a little more stock or water. Consistency should be creamy and slightly saucy.
While Risotto is cooking, chop green tips off the Asparagus, and then finely slice lengths into rounds.
Add tips and rounds to Risotto near the end of cooking time and stir to combine and lightly cook.
When Risotto is cooked, add pureed Peas, Parmesan and Lemon zest and juice, reserving some zest for garnish.
Stir to combine. Check seasoning and adjust to taste.
Divide Risotto among bowls and drizzle with herb oil, if using, and sprinkle with extra Parmesan and lemon zest.