Kings Garden Cafe Botany
Kings Garden Cafe Botany
You'll find a delicious menu inspired by the seasons, served in a stunning architecturally-designed building. Enjoy your meal surrounded by the lush greenery of our garden centre. A seasonally-inspired menu bursting with nutritious, fresh flavours, superb service from our experienced team and stunning light-filled interiors with comfy booths, cosy nooks and generous table seating. A family-friendly environment – including our brand new outdoor playground. Beautiful venue surrounded by plants available for function hire for up to 200 people. Fully licensed with tailored catering options.
Cafe Hours
Open 7 Days
8.30am - 3.30pm
Kitchen closes 2.30pm
Store Hours
Monday - Sunday
9am - 5pm
ANZAC Day: 1pm - 5pm
View Botany Store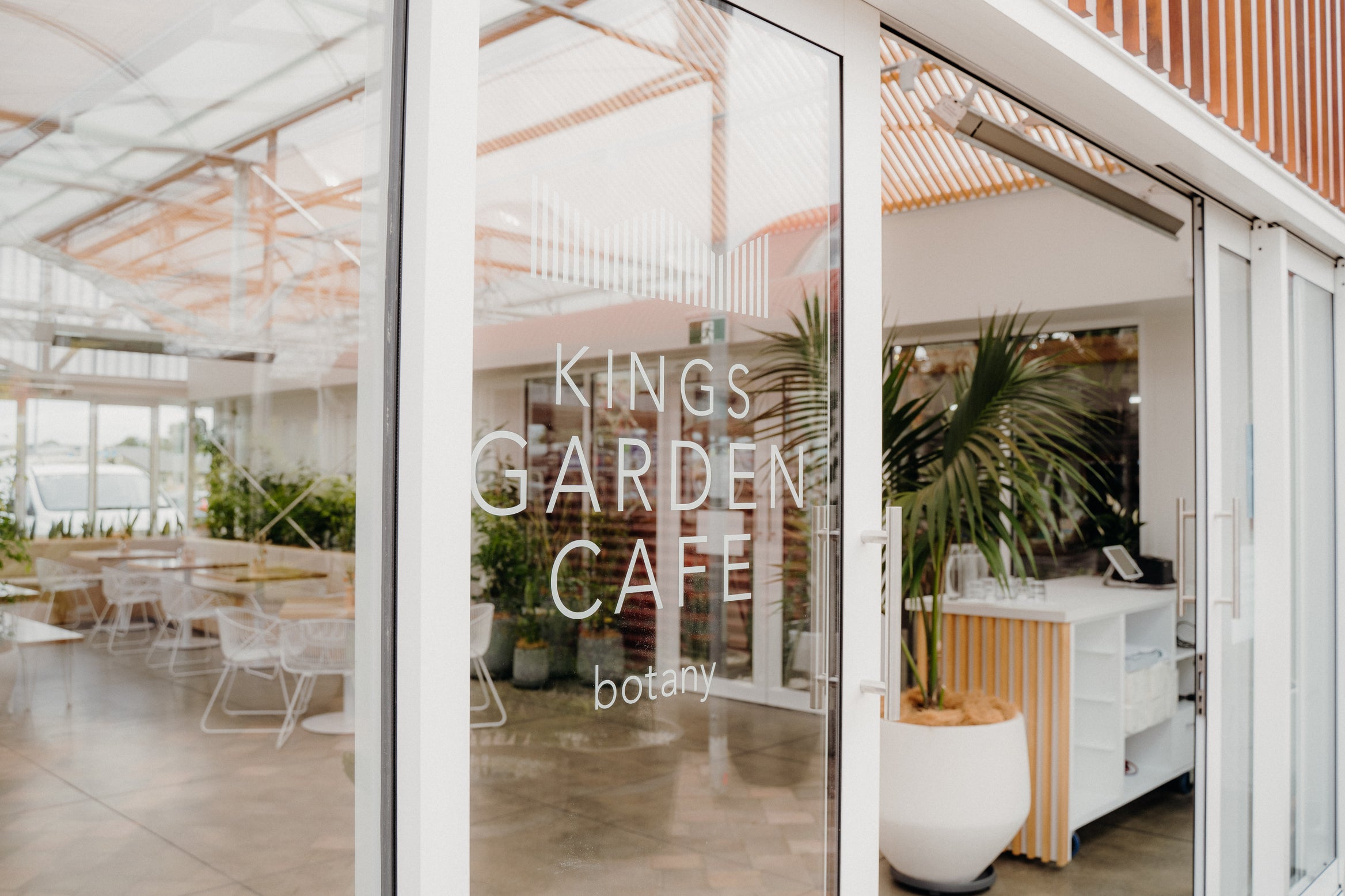 Booking & Reservation
We take pride in our ability to handle groups of any size for any occasion and we have plenty of parking. Please call or email the café to discuss your requirements, if emailing please be aware that booking will only be confirmed with a reply or phone call back, if you require urgent attention please call us on 09 273 8527.
Long Black
(Single Origin or Blend)
4.0
Alternative milks:
soy, almond, coconut, oat
0.8
Strawberry & Cucumber Soda
6.0
Vanilla & Grapefruit Iced Tea
5.5
Cold Pressed Juice
Orange / Apple / Beetroot, Carrot & Ginger
6.0
Mixed Berry Smoothie
Mixed Berry & Chia Seed
8.0
Mango and Coconut Smoothie
Mango & Coconut
8.0
Green Smoothie
Avocado & Seasonal Greens
8.0
Chocolate & Peanut Butter Smoothie
Chocolate, Peanut Butter (N)
8.0
Bloody Mary
Vodka, Tomato Juice, Chilli, Peppercorn, Basil
14
Mimosa
Prosecco, Orange Juice
12
Mionetto Prosecco
Italy 200ml
12/-
Filigri Road Rosé
Kumeu 2019
14/62
Karikari Calypso Chardonnay
Northland 2019
16/72
Pacific Potion Pinot Gris
Gisborne 2019
13/58
Rock Ferry 3rd Rock Sauvignon Blanc
Marlborough 2019
14/62
Mon Cheval Pinot Noir
Waipara Valley 2013
-/79
Granola
Roasted granola, mandarin, kiwifruit, banana, yoghurt mousse (V)(N)
15
Kings Breakfast
free range eggs, pork sausages, bacon, roasted heirloom tomatoes, mushrooms, housemade potato rosti, sourdough
27
Kings Benedict
free range eggs, spinach, potato rosti, hollandaise
Add bacon/crushed avocado +6 Add salmon +7
18
Smashed Avo
Avocado crushed, corn chilli salsa, preserved lemon, smoked stracciatella, sourdough (V)
20
Ricotta Hotcakes
Ricotta hotcakes, berry compote, vanilla cream, orange syrup, hazelnut praline (V)(N)
Add bacon +6
19
Chilli Eggs
Folded eggs, piperade, chilli oil, charred scallions, crispy capers, sourdough
Add salmon +7
18
Truffled Mushrooms
Truffled mushroom medley, pickled enoki, confit garlic, thyme, ciabatta (VG)(V)(DF)(GFO)
Add poached egg +2 Add bacon +6
19
Charred Eggplant
Charred eggplant, zaalouk, rhubarb vinaigrette, tzatziki (V)(GF)
18
18
Roast Chicken Salad
Roast chicken salad, green beans, charred cos, parmesan, orange salsa
21
Market Fish of the Day
Market fish of the day, grilled asparagus, tomato panzanella, pea purée (DF)
29
Buttermilk Chicken Burger
Buttermilk chicken burger, capsicum jam, chilli aioli, baby cos, fries
25
Beef Brisket Burger
Beef brisket burger, provolone cheese, house ketchup, pickles, baby cos, aioli, fries
Add fried egg +3 Add bacon or mushroom +6
25
Kids Hotcakes
Hotcakes, berry compote, orange syrup
Add bacon +4
12
Kids Egg on Toast
Add bacon +4
8
Kids Burger and Fries
Beef brisket burger slider & fries
13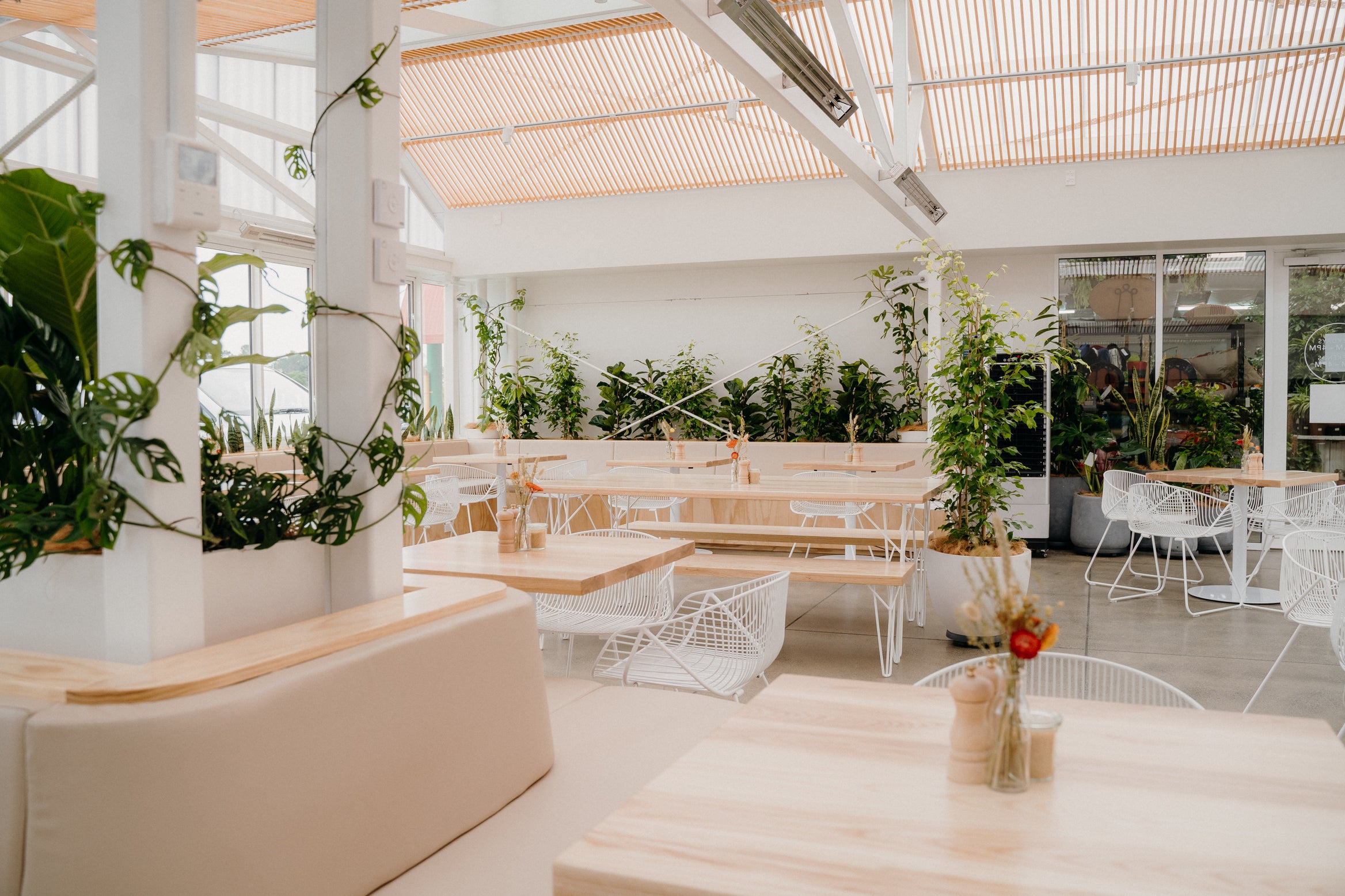 Function & Events
We do offer our venue and catering for functions and private/corporate events. If you are interested please email to discuss your function. We do have to limit the number of functions we do as there are only so many weeks in a year so please don't be offended if we are unable to fulfill your requirements.
Feedback
We appreciate hearing about your experience, please feel free to email us here.
We are always working to make our customers experience better and appreciate your feedback