Lavender is easy to grow, looks great and produces a profusion of delightful blooms over an extended season, attracting bees and other beneficial insects!
Planting Calendar
Summer
Autumn
Winter
Spring
It is best to plant lavender from August through until January.
Prepare
Position
Best planted in a warm spot with full sun, or at least 6 hours of direct sunlight daily. Lavender can also be grown successfully in pots. Great for small hedges, garden borders, in mixed plantings, or as a standalone feature plant.
Soil
Lavender prefers free draining soil, with a light mix of organic matter such as Kings Compost. However, once established lavender can withstand poor soils as well.
Plant
Dig a hole around twice as wide and deep as the pot it comes in. Backfill half the hole with a mix of your original soil, Kings Organic Compost, and Kings Sheep Pellets. In heavier soils adding Gypsum Claybreaker to the hole can help improve the soil structure. Carefully remove from the pot, gently tease open the roots, and place in the hole. Backfill the remainder of the hole with your mix and firm the soil around your plant. Water in deeply.
Care
Watering
Keep well watered at the establishment stage, especially over the summer months. Once established, regular watering will keep them happy and healthy.
Feeding
Lavender plants require few nutrients to thrive. Do not feed when planting, but instead start after a month of them being in pots or the ground. Feed twice a year, in spring and again in summer, with Kings Fast Food or for an organic option use Aquaticus Organic Garden Booster.
Pruning
Deadhead flowers as they go past their best throughout spring and summer to encourage more flowers. Trim the plant back regularly to ensure plants don't become woody. As a general rule, trim back by a third as soon as they finish flowering. For varieties that continuously flower, prune in early summer and once again in autumn.
Top Varieties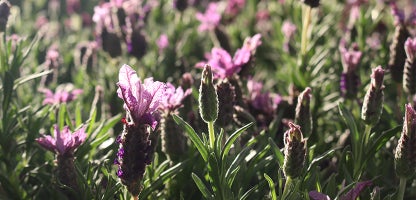 Lavender Major
Grows approximately 0.6 x 0.6 m Packed full of lavender oil, the scent from this variety is exquisite. Produces plump, dark purple blooms with lighter mauve 'ears' from spring into autumn.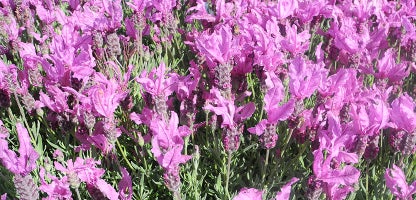 Lavender Princess
Grows approximately 0.7 x 0.7 m This Spanish type of lavender produces incredibly vibrant pink flowers from spring into summer with a neat, compact growing habit.
What you need to Grow Well
Frequently Asked Questions
What is the best variety of lavender for a hedge?
Lavender Dentata or French Lavender is fast growing & ideal for hedging purposes.