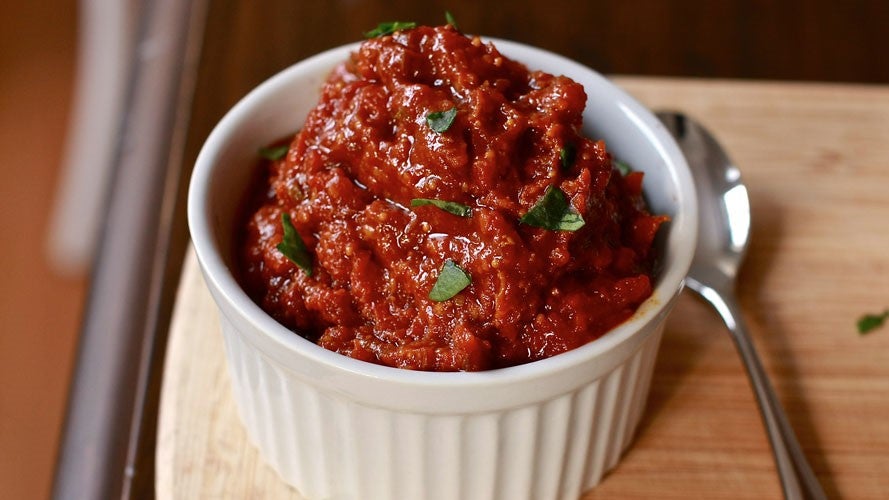 Use up those excess tomatoes and create a delicious Tomato Kasundi. The recipe for this delicious chutney comes from Simon, the manager of our St Lukes branch. Initially inspired by Anabelle Langbein's recipe, Simon has honed his version over the years, much to the delight of those around him. Recipe makes approx. 2 Litres.
Ingredients
225g green ginger, grated
100g garlic cloves peeled and chopped finely
50g green chillies, sliced in half, seeds removed
2 1⁄2 cups malt vinegar
1⁄2 cup oil
2 tbsp turmeric
5 tbsp ground cumin
5 tbsp mustard seeds ground to a powder
2 kg tomatoes chopped
2 cups sugar
1 1⁄2 tbsp salt
Method
Puree the ginger, garlic and chillies with enough vinegar to make a paste.
Heat the oil in a large pot.
Add the ground spices and fry until they exude a fragrant aroma. Add the pureed paste tomatoes, the rest of the vinegar, sugar and half of the salt. (Check near the end of cooking to see if more is required).
Cook over a low heat, stirring occasionally, until the oil floats to the top, this normally takes around 30-45 minutes.
Bottle into sterilised jars while hot. If need be, add a thin film of hot oil on the top of each jar to prevent the top from drying out. Cover with screw top sea,l lids and store in a cool, dry place.